We are continuing to work from home and manage our clients websites.
Please let us know if there is anything we can do during this transition phase back to working life.
We have created a Simple Cart System to allow our clients to sell quickly and simply online. Find out more and get in touch if you would like to start trading online.
What we do
We design and develop websites that help your online business to grow
Website Design and Development
Why Choose To Work With Us
Great website design is all about understanding your customer needs. We've been helping businesses just like yours meet their customer needs, since we started way back in 1998.
We know what people and search engines want from your website and we know how to get you listed correctly in the search engine results. We also know what makes a customer want to visit your website again and again as well as contact you.
Visit our Case Studies, for more details of how we have helped other businesses.
Do you need an e-commerce system that fits perfectly with your business and users needs?
We work with you to produce a website that your user will find simple to use.
DRA has created simple E-commerce systems through to complex systems for pharmacies.
We look at your customer's journey and create an online store that works for you.
Our Simple Cart System allows you to simply sell from your website
Our simple cart system has been developed for non-commerce websites allowing you to add an e-commerce element to any content across your website, sell a product direct from your blog or from any page with a simple line of text, add products quickly and easily, start selling today.
Get started with one simple price of £20 a month, paid yearly added to your hosting.
Unlimited products, unlimited categories, unlimited photos, unlimited support.
Start selling now.
Content Manager System designed by Us
A content system designed to fit your business specifications
Content Manager
Product Manager
Blog Publication
Membership Manager
Newsletter Designer
Mailing List Manager
Media Manager
Digital Assets Manager
Leads Tracking
Sales Management
Gift Voucher Management
Multi-lingual Content
Easy SEO Integration
Stats Integration
Monthly Website Stats
Accessibility
Automated Database Backup
Maps Integration
Google ReCaptcha
Blacklisted / Blocked Filtering
All this and more.

Part of what keeps users coming back to your website again and again is relevant, frequently updated content.
Wordpress and Joomla are great content managers to start blogging with, but as your business progresses you need to upgrade to a professional software package.
At DRA our CMS solutions can range from integrating a blog through to building a system that provides you with full control of all the content on your website.
Our CMS is included with any website design we produce and host at no extra cost to you. We include it, because it makes our life and your life simpler knowing your website and content is secure and easy to update.
The DRA CMS is also available for those of you who already have a great website but just want a more dynamic content manager that is easy to use.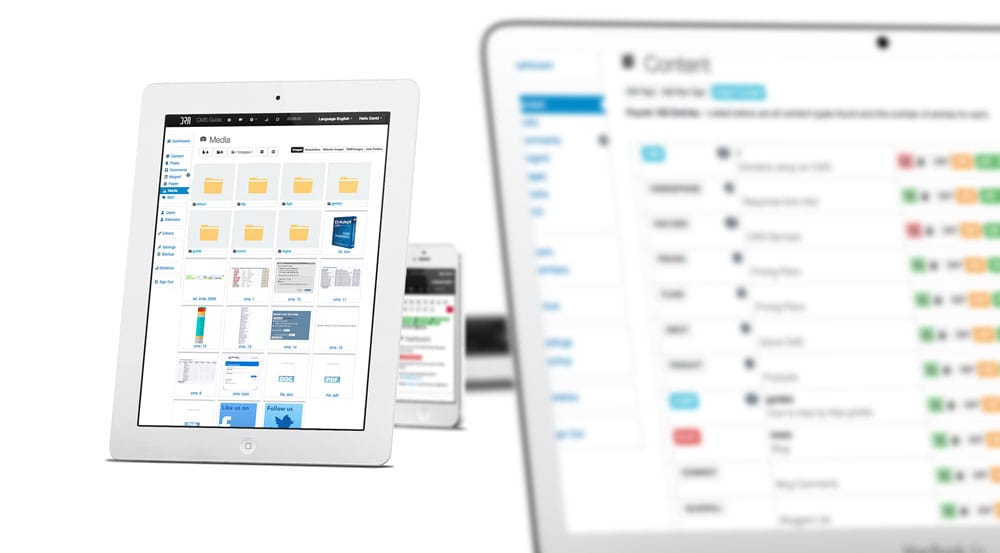 Hosting Services you can Rely on
To fit any sized business
DRA is able to provide shared or dedicated server solutions, domain registration and management with complete set up for any business.
Our servers are retained in secure, specially constructed, climate controlled rooms in London Docklands and in the North of England.
Every server is backed up daily and monitored 24 hours a day, 7 days a week, ensuring downtime is kept to an absolute minimum.
Network traffic and server load is also monitored at regular intervals so your website runs at its optimal speed.
SSL Certification
If you are collecting personal information through your website from your customers then an SSL certificate is needed. This lets your customers know your website is secure and they can safely part with their information when completing forms on your website.
We sort all this out for you so you don't have to worry about it.

Ready to Transform Your
Website and Online Business
Get Started
Websites that Generate Leads and Increase Sales
from online stores, booking systems, and calendars, to generating revenue, nurturing a community of fans, and promoting your brand. A website is the centre of any business that wants to survive in the online world. You can't afford not to have one.