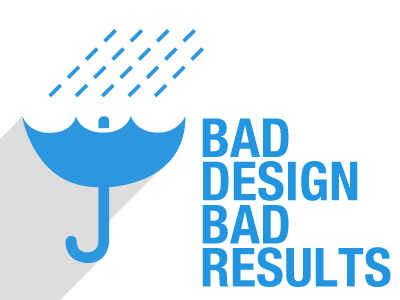 Website Design
This article is aimed at those business owners with no design experience or understanding of how the search engines work, but still insist on designing their own website. Designing your own website can actually damage your business more than it can help it.
I often feel many businesses that have a website never truly look at it in a non biased manner. Too many websites are still poorly designed or have rotten navigation. The owner, often blinded by their own design skills, loves the site because it matches their preference for colour and layout, instead of thinking about what their customer wants.
One website comes to mind, a local vineyard was recommended to me but after visiting their website my first thought was, you must be joking! I'm never going there, it looks terrible. To me a bad website indicates a bad experience.
After three attempts my friends finally dragged me to this vineyard for the tour. As much as I was dreading the experience, it turned out to be a lovely evening. The vineyard is set in the beautiful countryside of Purleigh in Essex, the tour was interesting and the wine tasting fun. The wine was so good I even purchased a number of bottles of their Bacchus and Pinot Gris and I will be back for more.
I guess the old saying 'you shouldn't judge a book by its cover' is true. But people do judge, and the only reason a business would have a website is to promote themselves to existing as well as new customer, so why use a bad design.
My reasons for originally not wanting to visit this vineyard:

Site looks horrible, probably not a great place to visit
Eye strain when trying to read yellow text on a black back ground
Pictures too small to get a good feel for the place
No pictures of the owners or staff
Some links in the navigation don't work
The counter on the top right counts every time I click on a page, which is misleading, and means the site isn't as popular as first thought.
The only good feature about the website, it tells you exactly what they do and what you get for your money.
At the end of the wine tasting the tour manager actually commented that a lady had said how lovely their website is, (I'm not sure he believed this, but I don't want to get him into trouble with the owner) click here to see the vineyard's website for yourself . However the tour manager did seem surprised when I said I didn't want to come because of the website.
If you are put off from visiting this vineyard because of the website, don't be, the tour manager is friendly and welcoming, we got to test 10 different wines, all made at New Hall.
Nobody likes to think they are judgemental, but on a daily basis I pass up visiting town centres, shops, pubs, restaurants and don't buy on-line from local businesses because the website is not professional, if I don't trust a website I'm not going to buy from them. This usually means the big brands get my custom because they know exactly what I want.
Here is a vineyard that is embracing modern website design (www.eastanglianwines.co.uk/index) it is a crisp, clear site which understands the importance of using pictures of the actually business. New Hall Wines are a member of this website, thankfully there are also a number of nicer websites that show New Hall off in a far better way then they are doing themselves.
As a digital marketing company, we are constantly thinking about our website and those of our clients and coming up with ways to make improvements. At the forefront of what we do is thinking about the end user and helping a business improve its performance (conversions) via digital marketing.
I thought I would share some current website design statistics with you so you can see for yourself what is important to your customers.
Stats About Smarter Website Design

80% of people judge a business on how their website looks, and are likely to go to another site if they don't like what they find.
40% of people will abandon a web page if it takes more than three seconds to load. (Source: Econsultancy)
The change in a website bounce rate spikes to 100% when a page takes 4 seconds or more to load. It jumps to 150% if a page takes 8 seconds or more to load. (Source: Mobile Joomla)
A study of Fortune 500 websites showed that 63% have content above the fold, 50% feature a scrolling content window of some kind, 63% use high quality images that connect with their users, and the average loading time is 6.5 seconds. (Source: Go-Globe.com)
46% of mobile users report having difficulty interacting with a web page, and 44% complain that navigation was difficult. (Source: Keynote)
48% of users say that if they arrive on a business site that isn't working well on mobile, they take it as an indication of the business simply not caring. (Source: MarginMedia)
62% of companies that designed a website specifically for mobile had increased sales. (Source: Econsultancy)
78% of respondents stated that their company was extremely or quite committed to delivering the best online user experience. (Source: Econsultancy)
Only 55% of companies are currently conducting any online user experience testing. (Source: Econsultancy)
Over 80% of marketers consider increasing overall conversion a dominant priority for their website optimization programs. (Source: MarketingSherpa)
As professional website designers we have to know current website trends, advise our clients, and update their websites to keep them looking fresh, and keep their customers happy.
Search engines are intelligent and sophisticated machines, they are now able to determine if you have a responsive website for people using mobile devices, if not, your website will be moved below those who do have a responsive site. They are also looking at design, the searcher is their customer and they want to give their customer the best possible service by providing them with high qualify websites and content.
Don't damage your business through pure pig headedness, as soon as you have the money invest it in a professionally designed website that focuses on your customer needs and the search engines guidelines.