POP3
Outlook Express
Microsoft Outlook Express Set up
Your Configuration - POP3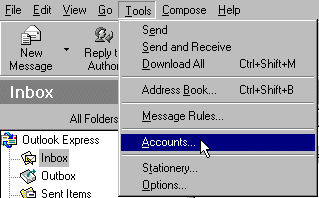 If you wish to send and receive e-mail on your DR Adept Hosting Account, you will need to configure your e-mail software to do this. We have used Microsoft Outlook Express for the purposes of this example.
To set up your pop account you must follow the procedure below...
First you must open Microsoft Outlook Express and click on the Tools option from the menu bar.
Now click on the Accounts option within the Tools menu, and select Add, from here you will be asked details about yourself and your company etc.

Once you have entered your Full Name and Email address, you will be presented with a screen for setting up Outlook Express with your e-mail server.
Make sure your incoming e-mail server is a POP3 server or it will not work correctly. All of the virtual servers we sell come with a POP3 account.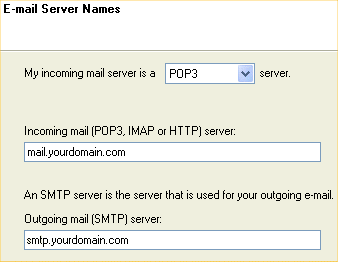 Next you need to tell Outlook Express about the e-mail servers for sending and receiving e-mails. Simply enter in the Incoming e-mail server field the following:-
mail.yourdomain.com
Now enter your outgoing mail server name (please note there are additional steps required below to make your outgoing mail server work) :-
smtp.yourdomain.com

Now click on Next to take you to the Mail Logon Screen from here you will be asked for your username and password that we supplied to you. This is to authenticate your identity, so that you can send and receive your e-mails.
Make sure you type both your username and password correctly (including the case of the letters) as you will not be able to retrieve your e-mail otherwise. Now click Finish.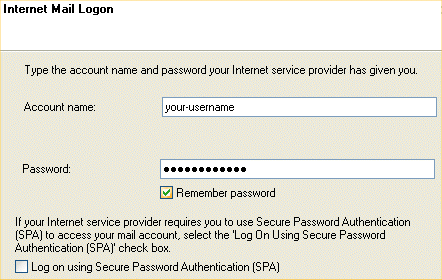 To make your outgoing mail server work you must now enter some additional information, on the screen you are still on (Internet Accounts) click "Properties" as the image below shows.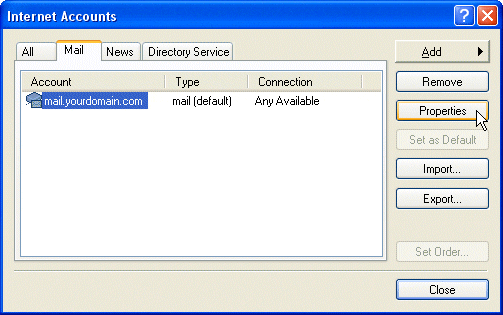 Now click the "Servers" tab at the top of the screen and tick the box at the bottom of the screen under "Outgoing Mail Server" that says "My server requires authentification" as shown in the image below.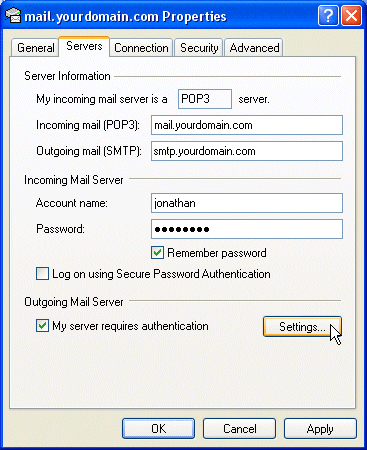 Now click OK and then Close.
You are now ready to receive e-mails on your hosting account!